Find out about the options which will best suit the purpose.
Design and shape
For security reasons, to prevent copying, we focus on VOID designs which are aligned with the label shape and design.
The effect must consider the amount of space available. It may display one or all of the following:
a language fee symbol such as an opened lock, an X or a broken glass pattern
a text such as VOID, OPEN or OPENED
a text in any alphabet or language
a brand logo
Depending on the intended functionalities, label shapes can be rectangular or irregular and may contain perforations, firmly sticking areas without the effect and in colors from transparent to opaque.
For further information click the "info" sign on the wall.
Whenever possible, combining all features into a VOID label with sealing functions provides for the strongest overall protection and attention.
Even holograms and printed UIDs become part of specific color shifting patterns in customized multifunctional labels.
And beyond, Securikett can integrate a family of chosen features into many other packaging components, such as hang tags, product labels, multilayer labels, filmic materials and shrink sleeves.
This enables our customers to secure different types of their packaging, all from one source.
Visit the rooms on UID, IoT and Track & Trace to learn more about the IT aspect of product protection.
For further information click the "info" sign on the wall.
Going green has never been so easy
Simply replace your existing plastic labels for carton folding boxes with Securikett's semi-transparent or opaque PaperVOID seals and easily achieve your green goals.
One package – one material
By using only one single packaging material, the complete packaging can be recycled together. Converting to paper-based seals is a smart move for all businesses – "Future proof" your packaging to meet the evolving packaging requirements for sustainability.
Sustainable PaperVOIDs in different designs
The paper seals are available in various colors and sizes and can be customized to your corporate design.
Read more:

Nina Zehetmaier
Head of Sales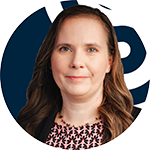 We are ready for any challenge – talk to us