Based on our approved "one code fits all" concept, Codikett securely connects UIDs, products, IoT services and consumers, providing and generating valuable data of lasting benefit to you in the areas of distribution, supply chain, and marketing.
Key benefits of the Codikett cloud platform:
Secure issuance of billions of unpredictable Unique Identifiers (UIDs) for your products, excise stamps, direct marking devices
Transparency and visibility of global distribution channels, secured by Blockchain technology
Multilingual consumer engagement, such as product-related verification and information
Customs support to distinguish genuine and counterfeited products
Smart IoT applications to fulfill specific use cases
Our modular system allows for easy self-configuration and trouble-free integration into existing systems
For further information click the "info" sign on the wall.
Jean Hazim
Sales Manager for Digital Solutions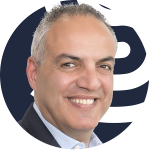 We are ready for any challenge – talk to us!